In a recent survey of our current community partners, we asked why they continued to use Heartland Pharmacy. Quality of service continues to be the top priority, with slightly over half of those surveyed listing it as their #1 priority. 91% of those surveyed listed quality of service as at least one of their
top 3 reasons for using Heartland Pharmacy.
While quality of service can mean different things in different industries and across different people, for Heartland Pharmacy, it means that we live up to our mission and vision through four quality aspects:
Trust
Care
Communication
 Partnership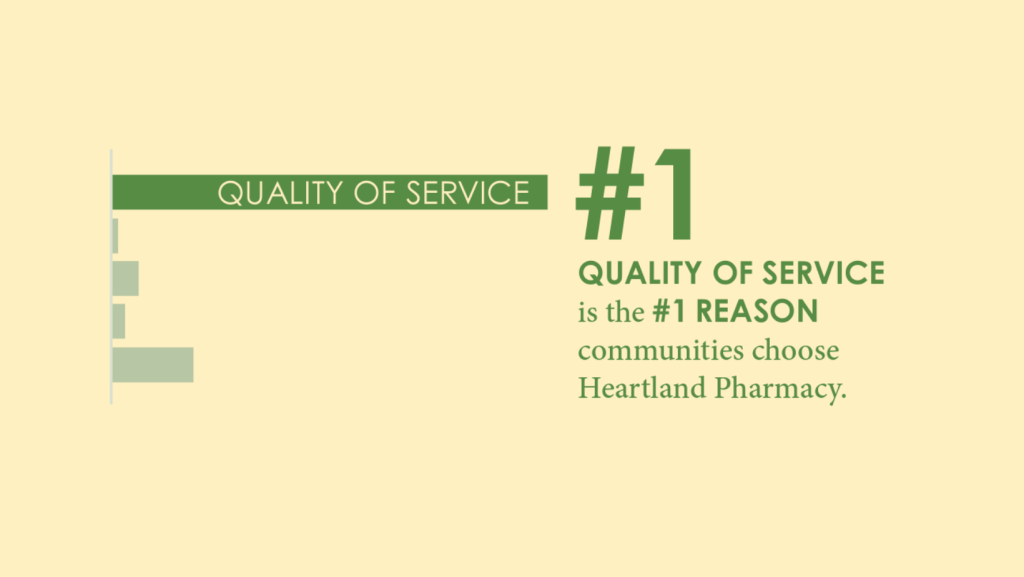 Trust
We nurture a high level of trust with our seasoned community partners and work hard to swiftly establish trust with our new partners in a genuine manner.
Trust doesn't mean operational perfection. Trust means that our communities have a comfortable expectation of positive outcomes. We are all faced with challenges in the long-term care industry. When a problem arises, we have an established level of trust and, therefore, the ability to work effectively through challenges. Our community partners trust that our quality of service will result in a quality outcome.
Care
Care isn't quantifiable in a statistical sense, rather it's a feeling – when we leave an interaction, both parties feel good. Consider when you visit your favorite coffee shop, and they know your name, or they take the time to talk to you. You walk out the door feeling great – that's the care aspect of quality service.
Care is also a mutual vision for our community partners and ourselves. When a community has a vision of quality and care as part of its culture, it aligns with our vision as well. This synergistic vision creates a quality of service.
Heartland is perceptive of our partner's needs. We care about those needs and thus go above and beyond filling prescriptions to fill unique needs. We want to make the lives of the staff and residents simpler because we are all focused on positive outcomes. 
Communication
Communication is also a key factor in the quality of service that Heartland Pharmacy provides. We make it a priority to provide multiple communication channels to best fit our partners.
Heartland Pharmacy uses digital tools for communication, provides consistent training opportunities, and distributes informational data via email and text. But more than that, we ensure that our communities have a one-on-one communication level with our staff, particularly our PCATs, so that service is provided in a personal, consistent manner.
Partnership 
If you look at quality of service as an all-encompassing idea, it is a partnership. When you have a well-established relationship, with trust, care, and communication included, it becomes a valued partnership.
We look to provide our partners with education, solutions, and collaboration. Providing these in a quality manner allows for the partnership to flourish and for residents to receive quality service.
Ultimately, that quality of service means that we are making a difference in the lives of the people we serve. That is and always will be our mission, which is exactly what quality of service means to Heartland Pharmacy.
-Sarah Howard
Director of Revenue Engagement